[Sticky]

Airbags 101: When You Need an Airbag Module Reset
The dealership will not be able to clear hard code due to hardware issues and will offer to sell you a new replacement airbag module that usually costs around $180 to $600 depending on the vehicle.
At MyAirbags, we reset ALL fault codes.  After you receive the module back from us you will not have to take it to the dealership for any additional programming. All airbag control modules can be reset and reprogrammed, with the exception of flood, fire or hardware damage.
Using MyAirbags Reset Services will save you 100s of Dollars!
After even a small accident, codes will be stored in the module.
You will need to remove the module and send it to us for reset. This is crucial, otherwise you run the risk of not having a working airbag system. 
MyAirbags resets ALL airbag module fault codes.
Reset Airbag Module Codes at MyAirbags
It is crucial to have your vehicle's airbags replaced or airbag module reset following an accident. Many car dealerships need to place special orders to replace airbag modules, which greatly increases the replacement cost.
At MyAirbags, we don't need to outsource repairs and we reset your original airbag control module in-house with IPC-Certified electronics technicians.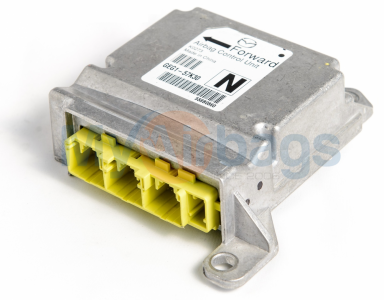 Was your vehicle involved in an accident?
Is your airbag light on?
If you answered yes to either one of the questions above, your airbag module needs to be reset.
Airbag Module Reset & Return (Like New, Only Better)
After a vehicle has been in an accident, the airbag control module needs to be reset in order to be used again. If you don't have the module reset, you run the risk of being in an accident without a working airbag system for protection.
The IPC Certified technicians at MyAirbags can reset your original airbag module. Once repaired, it will not need to be coded to your vehicle VIN, since it is original and came out of your vehicle.
Here is a sample of what an airbag control module looks like: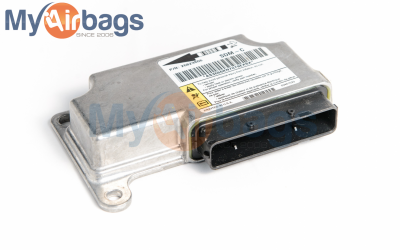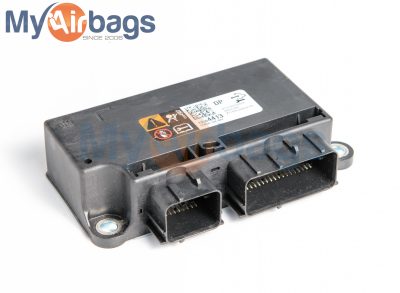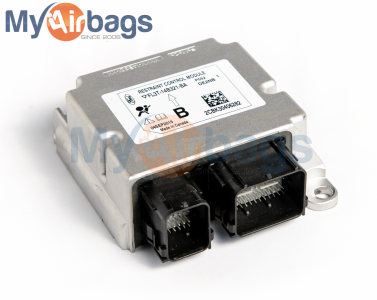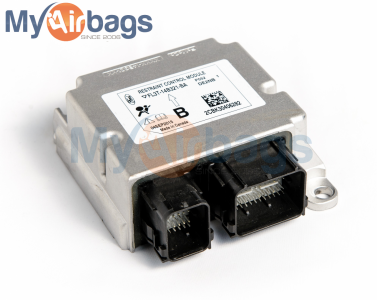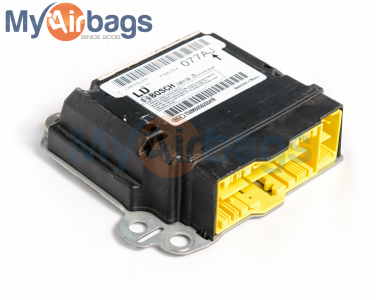 Accessing the Vehicle's Airbag Control Module
To ensure your safety when removing and installing your airbag module, MyAirbags provides these simple tips:
Removing the Airbag Module
Disconnect the positive lead on the battery and wait three minutes.

Locate the SRS computer module, which is often located directly below the center console between the front two seats. 

In GM vehicles, the SRS computer module is typically found under either the driver or passenger seat, while in other vehicles it may be found near the floor in the center of the dash.
Installing the Airbag Module
Ensure proper connections of all SRS components, including clock springs, airbags, impact sensors and seat belts.

Disconnect the battery cables, and carefully insert the reset airbag control module.

Connect the airbag control module wiring plugs. Make sure the module is bolted down. If not bolted down the airbags and seat belts may deploy

Re-connect the battery after securing the airbag module.
Why You Want MyAirbags to Service Your SRS Module
High quality, cost-effective solutions at MyAirbags provide airbag control module resets for all vehicle makes and models from 1995 and up.
The auto repair technicians at MyAirbags solve airbag issues that may keep the airbag light on, such as clearing hard and soft codes and resetting the airbag module. These are important safety features that should not be overlooked following an accident in which the airbags deployed. Our airbag module reset services restore the module back to factory settings.
Our service is 100% guaranteed or your money back. 
It is not necessary to replace your airbag control module unless it has been in water flood or fire damage. Send your original module to us for reset and save hundreds!
Topic starter
Posted : 08/20/2021 7:04 am