3 FJ Cruiser seat belts that have been activated following a crash
I have 3 FJ Cruiser seat belts that have been activated following a crash. A local repairer said they could not repair the belts but advised I might find a service in America. The spoke about a mechanism that gets activated when there is an accident, and they explained that this mechanism cannot be repaired.
In my world everything can be repaired, it's just about cost. I realise it may be inappropriate to repair a seat belt and I would only want to have these belts repaired if they were going to be as good (reliable) as they were when they were provided by Toyota.
I have seen some repair videos on Youtube, not to understand how to do a repair, but more just to see what happens, and I have seen how some of the seat belt's parts are removed, kind of scary stuff. I doubt you guys do that kind of work, but I would be grateful if you can let me know
1. Can repair an FJ cruiser seat belt that has been activated as a result of a crash?
2. IS there any information you need to get from me that will help you know if you can do a repair? - with me sending them from Australia to the US, I don't want to send them there only to find out your tech guys says "we can repair these", this is why I am asking if there is any info I can give you that you can establish a Yes or No in relation to being able to fix the belts.
3. These seat belts are in the suicide doors of the FJ, and are the seat belts used by the driver and front seat passenger.
I have included a picture of the belts below.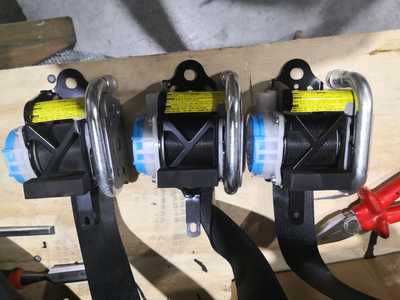 Topic starter
Posted : 02/07/2022 1:13 pm
Yes, these are seatbelts that we are able to repair, and we repair on a daily basis. We do not remove parts for the unit to work, we remanufacture the unit to OEM specs and your seatbelt will be working like new!  
The only issue that I see is that you are in Australia. In the US, by law, we have to ship seatbelts back via Hazmat Ground shipping. We are only able to ship to the 48 inland states. 
Now, if you have a physical US address you could provide us with, we can ship to that address. 
I apologize for any inconvenience. Best of luck to you. 
Have a great day!
Posted : 02/07/2022 1:14 pm
The seatbelts that are shown in the photo are all Single Stage Seatbelts - $79.99 each. You would be looking at $239.97 (for 3 seatbelts) plus return shipping of $42.00. Total of $281.97
We will contact you for payment once the service has been completed. Please do not send any form of payment with the seatbelts. 
Once we receive the units, we will ship them out the next business day. Our service is 24 hours turn around. 
When you send us the package, we will email you, letting you know that we received your units. at that point, I would recommend which address in the 48 inlans states you would like for us to mail them to, and we will make that adjustment.
 If you have any other questions, please feel free to reach back out to us.
Have a great day!
Posted : 02/07/2022 1:15 pm
Thank you for explaining, and I understand there is a requirement for Myairbags to ship via hazmat, can I arrange collection from you, where I arrange the courier?, as there is no such requirement on me. I can check the cost of the courier in Advance and make a decision on repair vs cost.
On cost: Are you able to confirm the cost of the repair based on the information I have sent? The seat belts rattle when they are shaken, that's the only additional information I can provide that I could not communicate in a photo. Can you provide an estimate? and can you let me know what your typical repair timeframe is?
Thanks
Topic starter
Posted : 02/07/2022 3:41 pm