1976 Porsche both front seat belts
Attn: Repair Service
I have a 1976 Porsche with both front seat belts having the same attached label. The belts appear identical (not handed). The right belt mounting looks correct, and it functions as you would expect, but the left belt has a twist in it in the retracted state, requiring the belt to be rotated/twisted before latching, not required on the right belt. With the left belt in use, it is not as comfortable as the twist is now over or very close to the lap.
Both belts use a steel plate bolted to the car body at the floor/carpet area, and each plate having a by-design bend to better fit the mounting contour. Had these plates not had the bend, the left side could simply be unbolted, rotated to untwist the belt, and bolted back up. I am the second owner, but have had it for all but the first year after its first sale, so not sure how this came to be.
With this background, I am now taking the time to see if there might be a solution. One solution would be to remove the belt stitching at the mentioned steel plate, flip the plate around, then stitch the belt back together. I wanted to see if MyAirbags feels this could be performed, and if so, is a repair which you would be interested in providing? If not, perhaps you could refer me to someone who might perform this service.
Thanks for a reply.
Regards,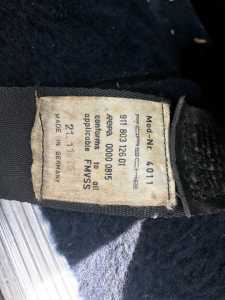 Topic starter
Posted : 10/11/2021 3:30 pm
Sorry for the delay in response, I had to check with our technician to see if we were able to do a belt for 1976 vehicle. If you wish to send us your part, can you please print out this email and attach it to your part? You can mail it to 1707 Enterprise Drive, Suite D, Buford, GA 30518.
Thank you!
Posted : 10/11/2021 5:58 pm
Does this mean your technician indicated you all can work on my seatbelt webbing/stitching or, is the technician wanting it to be sent in to determine if MyAirbags can work on the webbing/stitching?
Topic starter
Posted : 10/11/2021 7:27 pm
Our lead seat belt technician confirmed that we are able to work on your seatbelt webbing/stitching. When you send it, please reply back to this email and let me know so I can ensure the technician knows what they're doing.
Please remember to print out a copy of this email and include it in the box with your part.
Thank you!
Posted : 10/11/2021 9:55 pm