Airbag Light Still On After Reset?
I received my airbag module back and the airbag light is still on. What do I do?
I received airbag control module back and still have issues?
When you get airbag module back from us it will be clear of all codes.
Airbag module installation
All repairs need to be done first and airbag module installation needs to be done last.

Disconnect battery cables.

Wait 3 minutes before installing the airbag module in the vehicle.

Bolt down the module with all bolts and then connect harness plugs.

Vehicle needs to be flat on the ground, not elevated on a jack or lift.

Reconnect battery cables.

The system will run an internal cycle test on each component, such as: airbag, seat belt, and sensors.  

If all is good and functioning correctly the airbag light will turn off within 10 seconds.
If the airbag light does not turn off, then you will need to use a scan tool to pull the codes to see what codes are coming up. Usually it will be a bad connection somewhere, like an airbag impact sensor.
If you still aren't sure of how to proceed once you get the error codes, simply leave a comment bellow. Please be very specific, include codes, symptoms, describe the issue in detail and include photos and we will make sure your question is answered.
Topic starter
Posted : 04/18/2022 8:16 pm
Received my airbag control module back after repairs for a 2019 ram 2500 4 door and the light is still on it has several codes the main one is B0099-96 along with all the impact sensors test failed. I have inspected the sensors and repalced some. All are intact and wiring is also intact. Is the rollover sensor in the airbag module or an external sensor. Followed procedure above truck has not been started since module was removed. 
Posted : 05/27/2022 3:53 am
Thank you for reaching out. Yes all codes will be cleared including crash data/crash history.But if module is defective that will not clear the bad module code. Usually this happens if the module just failed (vehicle was not in an accident)The regular codes can come back. (Not crash data) When the module goes back into the car and problem is still with airbag, seat belt, sensors then the light will be on a code will be in the module. But then these codes will be cleared by themselves once the problem is solved or can be cleared with a scanner after the bad sensor, airbag, seat belt issue was fixed.
Or you can call costumer service with your order number and they will create service ticket. 
Let me know if you got more questions
Posted : 05/27/2022 10:33 am
Thank you is the rollover sensor in the airbag control module or is that a separate module located somewere else in the truck. Wouldn't you guys have been able to tell if it was a bad module? 
Posted : 05/27/2022 3:53 pm
The code listed above is for roll over sensor component internal failure 
Posted : 05/27/2022 4:06 pm
I apologize you're still having issues with your part! We can only clear crash history and it could be that you have an active code. Please have your module scanned for codes and let us know what codes you are getting . Contact costumer support and they can create a support ticket and have a technician reach out.   I cant pull up your personal information and see your order details or do a diagnostics over internet. Thank you!
Posted : 05/27/2022 4:16 pm
I utilized your services for a vehicle we have here in the shop (2015 Honda CR-Z). It presented with codes E2-11 and F1-11 prior to sending the module in. After reinstalling the module when it came back the faults are still stored and will not clear. the connectors are intact and in good working order. I have also removed the driver's airbag to inspect the connectors and clockspring. I have tried clearing the codes but after cycling the key they will return. Is this a situation where I need to replace a module? and would a used module be a candidate? 
Posted : 08/17/2022 3:53 pm
These 2 codes they are indicating airbags or seat belt pretensioners. 
Have you checked both driver and passenger seat belt to make sure they are good or did you send the seat belts to get repaired as well?
Have you checked the seat belt buckles (the ones with red button)? The buckles collapse/shrink/pulled down about an inch or two for most Honda CRV, CRZ, Pilot, Civic. If the seat belt buckle has collapsed, pulled down then they will need to be replaced or repaired. We do rebuild buckles as well if you need them done.
Post a picture here of your seat belt buckles if you are not sure that the buckles are bad or good.
Let me know, Thanks!
Topic starter
Posted : 08/18/2022 11:51 am
Here are pictures of good and bad Honda seat belt buckles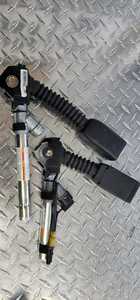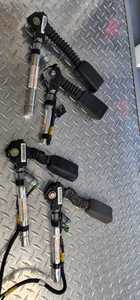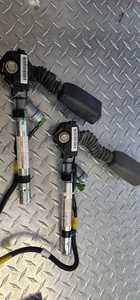 Topic starter
Posted : 08/18/2022 2:08 pm
Then I do not have pyrotechnic seatbelt buckles mine don't look like yours. Do I need to send in my passenger seat belt reel for repair? 
Posted : 08/18/2022 2:50 pm
Yes seat belt pretensioners will need to be replaced or rebuilt.
We can rebuild your seat belt pretensioners.
Here is seat belt repair link: https://www.myairbags.com/product/seat-belt-repair-1-stage/
Also a video if you want to do an OHM test on the seat belt pretensioner to see if the pyro/squib sensor is good or bad.
Topic starter
Posted : 08/18/2022 10:30 pm
I had the airbag Module from a 2012 Subaru Legacy reset.  Before reset I had these codes
F2 -side sensor bus LH communication error
A4 -side sensor bus LH communication error front door sensor
29 -ods failure
37 -buckle switch RH failure. 
after reset only code F2 -side sensor bus LH communication error  Remains.  What do you think this could be?   
Posted : 11/08/2022 2:47 pm
Thank you for reaching out.  Was your vehicle in an accident?  And who did srs module reset?
Posted : 11/09/2022 12:57 am
Car was bought recently for my 17yo cousin. Not sure if it was in an accident. I was told there was none reported but can see some signs of minor damage around the car.    I had the module reset through this site.  (myairbags.com)
Posted : 11/09/2022 3:41 am