2001 Chevy express module Water damage
How do I disconnect this 2001 Chevy express 3500 5.7 engine air bag module, to either buy another one or send this in? Please let me know. It obviously looks like it disconnects but it's not coming out easy or I don't know the trick. I don't want to force it or break it. Thanks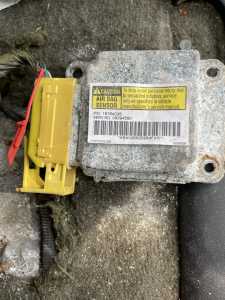 Topic starter
Posted : 10/02/2021 10:53 am
Hello,
Please click on the link below and enter the year, make and model of your vehicle. Here you'll be able to see removal instructions. If you are not able to remove it yourself, please take it to a mechanic to have it removed. 
https://www.myairbags.com/srs-airbag-control-module-location-lookup/
We do not keep any parts in stock nor do we repair airbag modules. Please only send us your airbag module if your vehicle was in an accident and you need the crash data removed. That is the only service we provide on the airbag modules.
Thank you!
Posted : 10/02/2021 1:21 pm